Each year the Connecticut Heritage Foundation supports the State Library and Museum of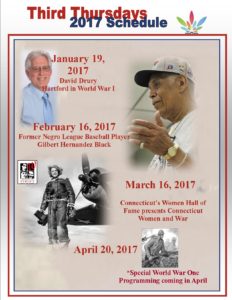 Connecticut History's Third Thursday Brown Bag Lunchtime speaker series.  This series features a variety of speakers on various aspects of Connecticut history.
---
Click on the links below to view the presentation:
January 19, 2017: David Drury – Hartford in World War 1
In his book,  "Hartford in World War I",  David Drury traces the extraordinary story of Hartford, Connecticut during the war.  When the United States Congress declared war in April 1917, Connecticut answered the call to arms.  As the capital, Hartford was the hub of the state's war effort. The city hosted major rallies and recruitment drives, and leaders from Hartford directed efforts to inspire patriotism and sacrifice.
---
February 16, 2017: Gilbert Hernandez Black – The Negro Baseball Leagues
Former Negro League Baseball Player Gilbert Hernandez Black was the Third Thursday guest speaker at the Connecticut State Library, 231 Capitol Ave. Hartford, CT 06106. Mr. Black played baseball in Stamford, Connecticut at Stamford High school in 1955.  He later played for the West Palm Beach Indians, a Florida State League affiliate of the Milwaukee Braves in 1956, and also for the Indianapolis Clowns, a professional baseball team in the Negro American League in 1957 and 1960. Mr. Black shared his experiences playing in the historic Negro Baseball League. The Negro Baseball Leagues were created to provide an opportunity for African Americans and Latin Americans to play professional baseball.  Mr. Black played with players such as  Clarence "Choo-Choo" Coleman and "Nature Boy" Williams, and many others.  Baseball was a segregated sport until Jackie Robinson broke the color barrier by signing with the Brooklyn Dodgers in October 1945.
---
March 16th, 2017: Connecticut Women's Hall of Fame
April 20, 2017: Commemoration of World War 1