The Library and Museum are involved in a number of exciting initiatives that benefit from private and corporate contributions made to the Foundation.
History on the Move –  this distinctive educational program is designed to increase the awareness of educators and school children about our state's history, heritage, and culture through the extensive collections of the Museum of Connecticut History, the State Library and the State Archives. Taking examples of Connecticut's rich history and culture to school children and making it relate to the town or region in which the school is located  is a major component of History on the Move.
The Foundation is currently seeking donations to support the refurbishing and outfitting of a van that was recently acquired by the State Library for History on the Move.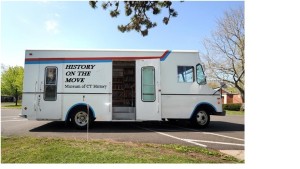 ---
Looking Back, Looking Forward: Connecticut's Role in the Great War
The Foundation has received a Planning Grant from CT Humanities for a multi-year, inquiry-based exhibition at the Museum of CT History exploring the multi-faceted story of Connecticut's role in WWI, bringing together for the first time the story of our state before the war, during the war, and after the war; and connecting those wartime changes to the story of Connecticut today. The grant is also funding the development of a plan for a satellite traveling exhibit and associated state-wide programming. The exhibit will open in November 2017.
In 1919 the Connecticut General Assembly created the Department of War Records at the Connecticut State Library. Today, this is one of the largest archives of WWI records in the country.
The State Library has also taken a leadership role in the state's commemoration of WWI. Remembering World War One: Sharing History/Preserving Memories is a three-year project that supports an immersive intergenerational and cross-cultural commemoration of the World War One Centenary, which presents an unprecedented opportunity to harness local history around the War. Through this project,  the State Library is building capacity for digital projects within local organizations and groups for 1) long-term digital preservation of community photos, objects and stories, 2) low cost and high impact intergenerational and cross-cultural communications, and 3) encouraging open access to content and metadata for wide distribution and reuse.
The Foundation is currently seeking donations to support the Looking Back, Looking Forward: Connecticut's Role in the Great War exhibit and well as the Remembering World War One project.
---
Connecticut History Illustrated (CHI) –  a collaboration between the Connecticut Historical Society, the Thomas J. Dodd Research Center at the University of Connecticut, the Connecticut State Library, Old Colony Historical Society and Mystic Seaport to establish  a comprehensive, Web-based virtual collection of graphic images that document the Connecticut community. Connecticut History Illustrated makes it possible for anyone to discover and use all types of digitized and digital material artifacts all relating to the history and culture of Connecticut from the 17th to the 21st century.