Each year the Connecticut Heritage Foundation supports the State Library and Museum of Connecticut History's Third Thursday Brown Bag Lunchtime speaker series. This series features a variety of speakers on various aspects of Connecticut history.
---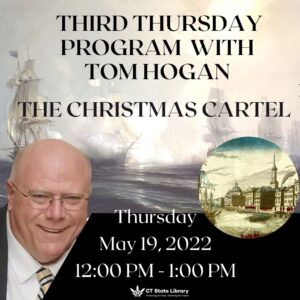 In 1776, on Christmas Eve, 225 sickly American prisoners were marched from British military jails in New York City onto a transport ship called the Glasgow. They had been serving in the Continental Army and were captured while fighting the British on Long Island or Manhattan. Most were enlisted soldiers from Connecticut. During the American Revolution, ships on humanitarian missions like the Glasgow were referred to as "cartels". A large white flag protected the vessel as it carried the emaciated men to Milford, Connecticut. Sadly, few survived to enjoy their freedom. The enduring effects of weeks of privation and exposure to smallpox exacted a heavy toll on the
soldiers and ultimately countless others across Connecticut.
Tom Hogan will describe the men's journey and what became of them. He will also include recently discovered details about two of the returning soldiers who died of smallpox in East Hartford.  Tom Hogan is a retired Connecticut probation supervisor and former officer in the Connecticut Army National Guard. He has co-authored several articles for professional publications. His passion for American history has led him to research a number of military and civil topics.
Register in advance for this Program:
 https://us02web.zoom.us/meeting/register/tZ0sf-qupj0uHNyxhPTmNdHOrit7qj7Bj7uM
After registering, you will receive a confirmation email containing information about joining the program.
This program will be posted to the Connecticut State Library's Facebook Page after the live event.